PRESENTATION / ABOUT US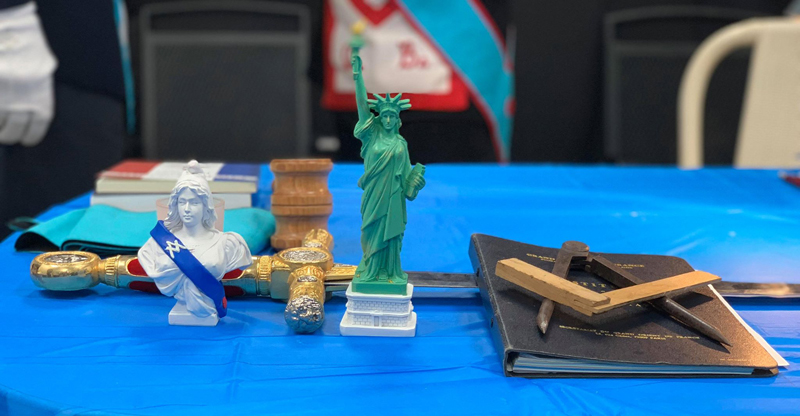 ETOILE DES DEUX MONDES

La Loge maçonnique "L'Etoile des Deux Mondes" est un cercle philosophique dont le siège est à Fort Lauderdale, Florida (et rayonnant de Orlando à West Palm Beach, de Daytona à Miami), avec le statut d'association à but non lucratif.

Créé en 2013, Le Triangle a reçu l'agrément du Grand Orient de France en 2015 et est enregistré dans l'Etat de Floride ( N17000002568), il a été constitué en Loge en Août 2018 et  la Loge a été installée le 20 octobre 2018.

7ème Loge du GODF en Amérique du Nord parmi les 1300 Loges de l'Obédience.

Elle réunit, sur la base de la cooptation seulement, des membres de toutes nationalités et de toutes conceptions philosophiques, épris de liberté absolue de conscience.

Elle est apolitique, adogmatique et s'inscrit dans la longue tradition des relations franco-américaines et d' universalité entre l' "Ancien" et le "Nouveau" monde

STAR OF THE TWO WORLDS

The Masonic Lodge "The Star of Two Worlds" is a philosophical circle headquartered in Fort Lauderdale, Florida (and radiating from Orlando to West Palm Beach, from Daytona to Miami), with the status of non-profit organization.

Created in 2013, Le Triangle has been accredited by the Grand Orient de France in 2015 and is registered in the State of Florida (N17000002568), it was constituted as a Lodge in August 2018 and the Lodge was installed on October 20, 2018.

7th GODF Lodge in North America among 1300 Lodges within the Obedience.

It unites, on the basis of cooptation only, members of all nationalities and all philosophical conceptions, in love with absolute freedom of conscience. It is apolitical, adogmatic and is part of the long tradition of Franco-American relations and universality between the "Old" and the "New" world.

ESTRELLA DE LOS DOS MUNDOS

La Logia Masónica "La Estrella de los Dos Mundos" es un círculo filosófico con sede en Fort Lauderdale, Florida (e irradiando desde Orlando hasta West Palm Beach, desde Daytona hasta Miami), con el estatus de asociación sin fines de lucro. 

Creado en 2013, Le Triangle ha sido acreditado por el Gran Oriente de Francia en 2015 y está registrado en el Estado de Florida (N17000002568), se constituyó como Logia en agosto de 2018 y se instaló el 20 de octubre de 2018. 

Séptimo Lodgia en América del Norte entre 1300 Logias de la Obediencia. 

Reúne, sobre la base de la cooptación solamente, miembros de todas las nacionalidades y todas las concepciones filosóficas, enamorados de la absoluta libertad de conciencia. Es apolítico, adogmático y forma parte de la larga tradición de las relaciones francoamericanas y la universalidad entre el mundo "viejo" y el "nuevo".
LA FRANC-MAÇONNERIE

La Franc-Maçonnerie, institution essentiellement philanthropique, philosophique et progressive, a pour objet la recherche de la vérité, l'étude de la morale et la pratique de la solidarité ; elle travaille à l'amélioration matérielle et morale, au perfectionnementintellectuel et social de l'Humanité.

Elle a pour principes la tolérance mutuelle, le respect des autres et de soi-même, laliberté absolue de conscience.

I Considérant les conceptions métaphysiques comme étant du domaine exclusif de l'ap-préciation individuelle de ses membres, elle se refuse à toute affirmation dogmatique.

Elle attache une importance fondamentale à la Laïcité.

Elle a pour devise : Liberté, Egalité, Fraternité .

FREEMASONRY

The purpose of Freemasonry, an essentially philanthropic, philosophical and progressive institution, is to seek the truth, study morality and practice solidarity; it strives for moral and material improvement and the intellectual and social development of Humanity.

Its principles are mutual tolerance, respect for others and for oneself, and total liberty of conscience.

It recognizes that religious beliefs are a personal matter for members, and so it rejects any dogmatic assertions.

It attaches particular importance to Secularism.

Its motto is: Liberty, Equality, Fraternity.

FRANCMASONERIA

La Francmasonería, institución esencialmente filantrópica, filosófica y progresiva, tiene por objeto la búsqueda de la verdad, el estudio de la moral y la práctica de la solidaridad ; trabaja por el mejoramiento material y moral, y el perfeccionamiento intelectual y social de la Humanidad.

Tiene por principios la tolerancia mutua, el respeto a los otros y a uno mismo, la libertad absoluta de conciencia.

Considerando las concepciones metafísicas como del dominio exclusivo de la apreciación individual de sus miembros, rechaza toda afirmación dogmática.

Atribuye una importancia fundamental al secularismo.

Tiene por divisa : Libertad, Igualdad, Fraternidad.